Make your brand digital by using various online platforms
Digital branding is the process of creating and promoting the online identity and brand story of a firm or individual. It typically involves using online channels such as websites, social media, webinars, search engine optimization, online reviews, guest blogging, earned media and digital advertising to build engagement and drive greater exposure. In the context of professional services, you can think of your brand as the visibility of your reputation. This broad concept includes both digital and traditional offline approaches to brand building. So the obvious question is, "How important is your digital brand?"
The following channels form an. integral part of digital branding: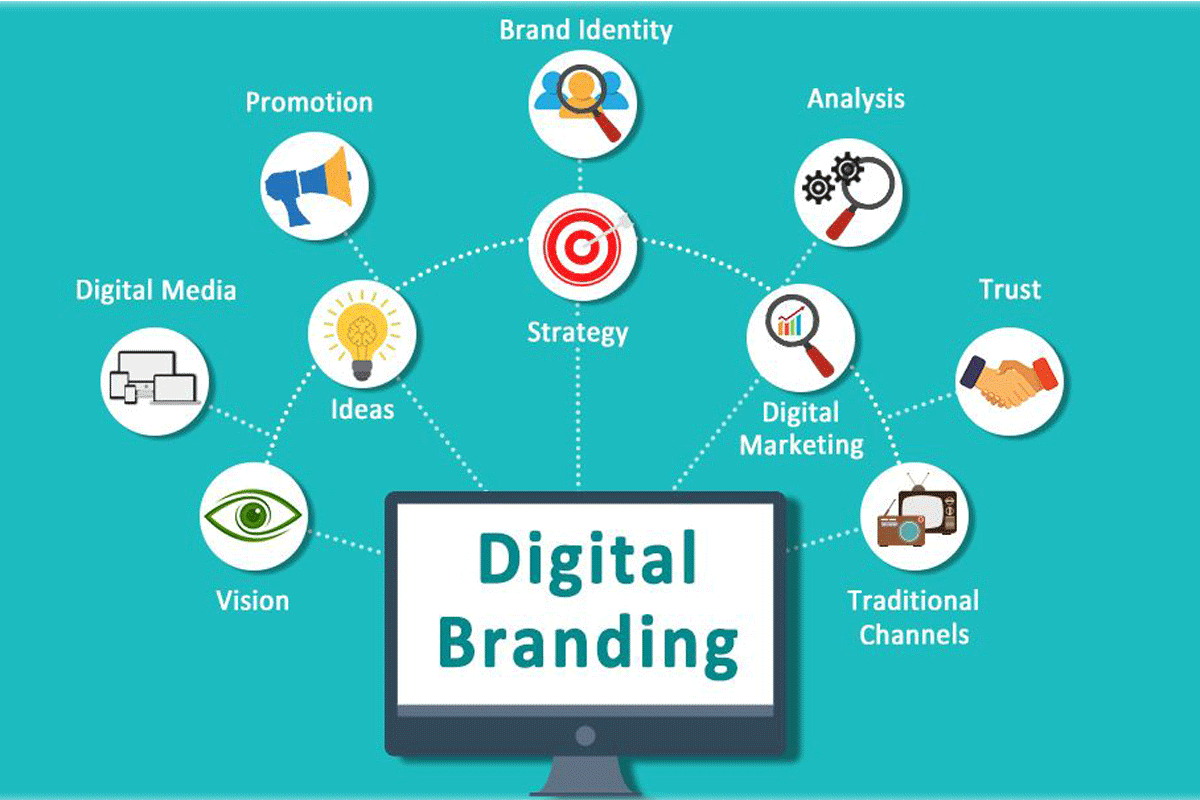 Digital branding is a form of branding and brand management. It takes the traditional concept of branding and translates it into the digital world. It uses the power of the internet, along with digital marketing strategies, to elevate the profile of a brand online. Digital branding services seek to increase awareness of the brand, tell the story of the company, and cultivate & drive customer loyalty. Branding is how you put your message into the world; your brand is what people think of when they hear the name of your business.
The Importance of Digital Branding
In our increasingly connected word, it is safe to say that digital branding is more important than it has ever been. But how important is it?
Two recent studies from the Hinge Research Institute shed some light on this important question. They investigate how professional services buyers' behavior has changed and what strategies are driving exceptional growth in today's professional services firms. Together these studies demonstrate the central role of a firm's digital brand throughout the buying process.
Researching Business Issues. The professional services buying process starts well before a buyer considers specific providers. It starts with a business problem. Business issues and concerns arise all the time, so each must be evaluated and prioritized. Is this issue important enough to focus on? What are my competitors doing about it? What are possible solutions?
How does a busy executive investigate these topics? It usually starts with a simple Google search. But if you aren't writing on the topics that your prospective clients are searching for — and optimizing your content to appear in their search results — you are invisible to a significant portion of your market. And you aren't building an online reputation as an authority in your area of expertise.
In fact, when we looked at all the information gathering techniques employed by professional services buyers, we found a 70% probability that today's buyers will use a digital source in the early stages of their research into business challenges.
The benefits of digital branding
A robust digital presence makes customers feel personally involved with a company or product. Well-crafted branding fosters relationships with users and allows you to speak directly with consumers through day-to-day interactions on the platforms they're already using.
Connect with customers
Successful digital branding makes customers feel like you're speaking directly to them, especially because you're engaging on the same platforms they use to interact with friends and family members. Be personal and meaningful: that's how you convert one-time customers into lifelong brand followers.
At its core, digital branding facilitates communication between a company and its customers. This can be as simple as making it easy for customers to find information about your company on your website, or helping them quickly get great customer service. Ultimately, a brand that isn't searchable online practically doesn't exist in the contemporary consumer's mind.
Digital branding is an important part of any company. Eshuzo is one of the leading Digital Marketing consultancies in India which helps your company in getting higher exposure and online recognition, more traffic, and organic outcomes. Our experienced team of professionals performs SEO, SMO, SEM, and PPC to produce 100% ROI.
Brand visibility is the extent to which consumers can recognise or remember a particular brand when other conditions are similar. Brand visibility is one of the two dimensions from brand perception, an associative memory model. The lower value indicates a lower level of consumer acceptance.
We will always design your website on top level. This website will have easy navigation, responsive, SEO friendly and fast loading. Also it's architecture will be according to your business. Our certified website experts and designers use advanced web technologies to provide the desired result.
The importance of digital branding comes down to the effective communication of your value to your customer. Digital branding is thinking about your potential customers – that traffic – and how we can tell them who we are, what makes us different, and what makes us better. When a website visitor understands our business, the purchase decision drastically reduces.
To sum up, it's all about consistency. There should always be a consistent and holistic approach to conveying your value to visitors across all marketing channels. Stop looking at different marketing channels in isolation because not only will it confuse potential customers, your business will feel disjointed too. Every marketing channel is a dot that needs joining and with these tips, you'll be well on your way to creating a renowned brand.